Something pretty unusual has to happen for me to blog, let alone blog about male sports, and it would be fair to assume this is the end of days for me to blog about a male football team (soccer)- but here we are. I like many others have been drawn into the world of Wrexham Association Football Club, a Welsh professional football club, they play in the National League, the fifth (and lowest) tier of the English football league system.
In September 2020 when the world was in the grips of the COVID pandemic Ryan Reynolds and Rob McElhenney paid £2 million to become the new owners of the world's third-oldest football club without even visiting or having any connections to the club in the small former industrial North Wales town. They bought the football club Wrexham AFC with the dream of getting the club back into division 1 (with sights set on the top level of football in the UK, the premiership). We know there is nothing new with Americans buying UK sports teams, they see huge investment opportunities with good opportunities for progression/growth and a truly global audience (at a fraction of the cost of a team in the NFL or NBA).
So what makes this any different from any other sports team acquisition? It's all in the growth off the pitch – Wrexham stands to be one of the fastest-climbing football clubs in terms of social global reach and cash value, all within 18 months – thanks to a "Netflix-style" docu-series "Welcome to Wrexham". The documentary series follows Rob and Ryan, their journey with the club, and the ups and downs of playing football in the National League with a focus on the heart and soul of the players, fans, and the town itself. All wrapped up in 30-minute bite-sized episodes peppered with the expected Ryan and Rob comedy that draws audiences in who may not care that much for a 5th-division football club in Wales.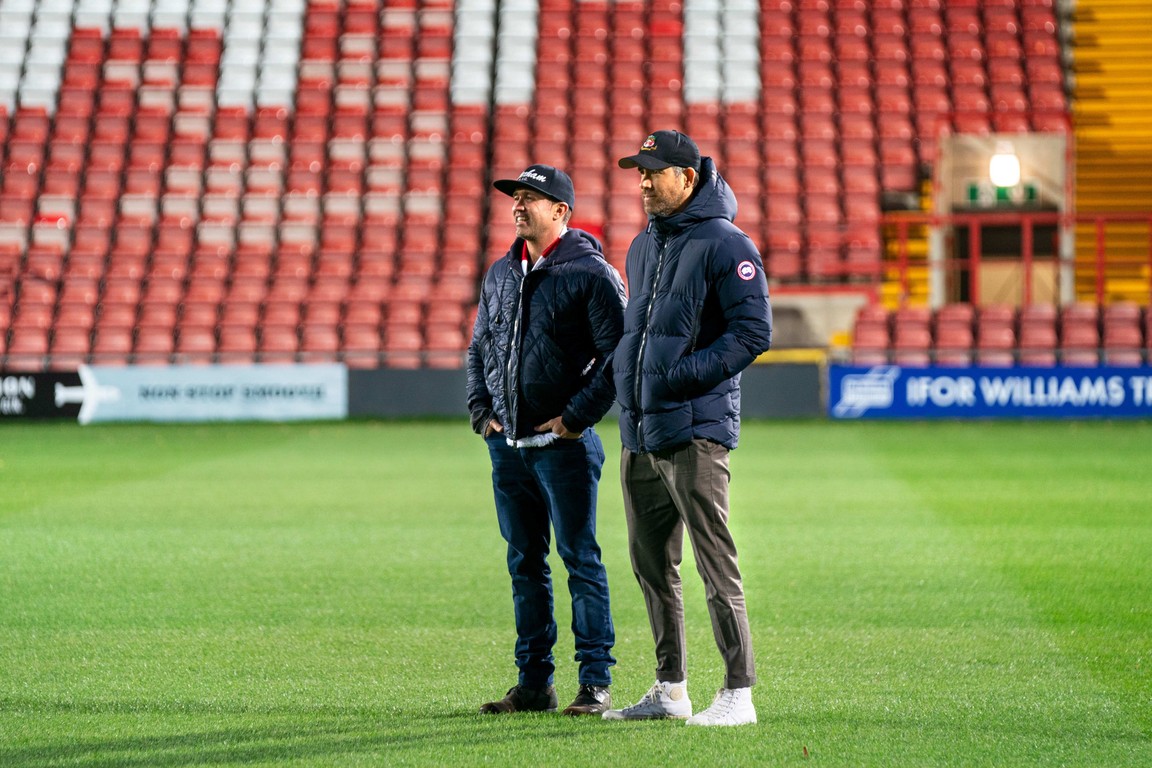 The show generated around $3.2m in revenue for WrexhamAFC (via a deal with FX/Disney+) which introduced a previously unheard-of North Walian football club into the hearts and minds of millions of new fans around the world with a well-crafted journey with the (at times clueless) Hollywood stars. An undeniably big part of the success story has been around the shaping of audience perception with clever marketing strategies that utilize social media and celebrity personalities in this story-driven style of marketing. One of the primary steps toward shaping audience perception was integrating Ryan Reynolds and Rob McElhenneys social audiences with that of the football club into a social media juggernaut.
In cold hard numbers that means the interest in the club has exploded with growth unprecedented for a football team, let alone of their size. With Twitter going from 45k to 209k (+364%), Instagram increasing by 670%, and TikTok going from 0 to 459k followers, making their social presence higher than clubs like Premier League side Brighton, who has just under 454k followers. In total, TikTok has had over 4.4 million likes across its videos, and some videos have over 1 million views. Even Premier League clubs such as Manchester United have average views in the hundreds of thousands rather than hitting the millions. This has only been possible with the backing of Rob and Ryan and their international appeal, drawn in from their individual accounts and the buzz created by the documentary.

But vitally Wrexham has managed to turn this increased attention into measurable revenue. Since the club gained new owners Wrexham AFC has signed kit sponsorship deals with several companies that are normally reserved for Premier League clubs TikTok, Expedia, Vistaprint, and Ryan's own Aviation American Gin. Equally the number of people buying season tickets has nearly tripled from 2,609 in 2019 to 6,820 in 2022 proving the local community is also buying into the club and its new direction. Reynolds has successfully influenced the National League's media rights strategy by publicly calling out their obstruction to clubs streaming live matches, rendering them unable to have fans outside of the local area – this has led to the National League's new plans to release their own OTT/streaming platform. Yet again feeding into the international audience and furthering the narrative journey they can go on, which only leads to more profits for the league and the team. Wrexham's Cup qualifier against Blyth Spartans aired on ESPN2 & ESPN+ in the USA making it available in over 100m households globally.  
This is a perfect example of taking a local sports asset and using creative media and strategic marketing to make it global, generating new revenue streams whilst doing so. What has been done to Wrexham is nothing short of a miracle, taking a sport and fusing it with storytelling methods we don't see used in the sports genre with sleek filming and clever writing culminating in a heartfelt story that doesn't often get seen beyond the dedicated fans of a sport. This was/is an expensive gamble, an experiment in storytelling and narrative marketing- but everything so far points to it paying off. Now it's time for other brands to take the leap into true story-focused marketing methods.
Welcome to Wrexham after its extremely successful pilot season has now been greenlit for seasons 2 and 3 with FX/Disney. Further proof that creative story-driven marketing can lead to wins not only in brand recognition but also in financial success.